German Shepherds are an established pure breed that has been around for many years. Due to the longevity of the breed, over the years it is common for pure breeds to develop health issues that can be more specific to that breed and German Shepherds are not alone.
Some common German Shepherd problems are:
Arthritis
Arthritis can be a problem in any breed of dog however tends to be more of a problem in German Shepherd dogs because of (a) they are a large breed dog and arthritis tends to be more prevalent in these breeds and (b) German Shepherds as a breed tend to suffer from hip dysplasia which is a genetic defect they can have from birth.
The symptoms of arthritis can be exacerbated if your German Shepherd is overweight. Remember to regularly exercise your dog and ensure that they are fed a high quality diet, all which can help delay the onset of arthritis. If you start to notice your German Shepherd having trouble moving then you should take them to your local Vet.
Allergic Skin Disease
You may find that you start to notice symptoms of allergic skin disease when your German Shepherd pup is as young as 2 months old, or the symptoms may not arise until your German Shepherd is much older, around 3 years of age.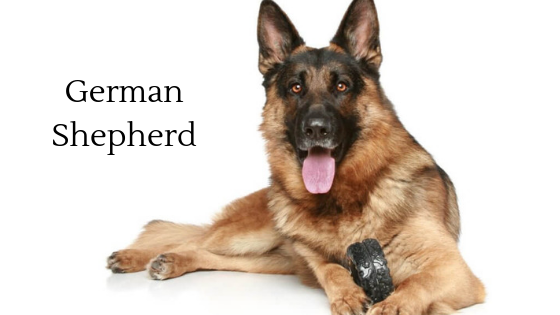 There are many different types of allergens your German Shepherd can be allergic to and some of the more common things include various plant pollen's, flea bites or even food allergies. The symptoms to look out for include excessive scratching, recurrent ear infections and excessive chewing and licking between the toes. If you are worried about your German Shepherd then you should see your local Vet.
Cancers/Tumours
German Shepherds like any other breed can be prone to developing various lumps over their body. More often than not these lumps are benign lumps and will not pose any harm to your dog, however the only way to know this is to get the lump tested as soon as you notice it in order to rule out any potentially more sinister tumours. Your local Vet can then advise you of the appropriate treatment.
Common Behavioural Issues
German Shepherds are large breed dogs and can be prone to some behavioural issues such as aggression, or jumping. Because of the size of this breed these are problems that should be dealt with immediately in order to prevent ongoing issues later on.
Jumping
German Shepherds often jump up on people as their way of showing that they are excited to see them. You can stop your German Shepherd jumping using a number of different methods, if you ant to learn more then check out Stop Your German Shepherd Jumping here.
Aggression
An aggressive dog can be very frightening and dealing with an aggressive dog can often be difficult because there are many potential underlying causes to the aggression. To start off you need to try and determine the cause of the aggression. For more information check out Stop Your German Shepherd Biting.