In today's rapidly evolving digital age, technological advancements such as cloud computing have revolutionized the way businesses operate. Major IT players such as SAP and Microsoft have leveraged this transformation to provide greater value to their customers. A significant development in this domain is the integration of SAP S/4HANA, a high-performance in-memory suite of business applications, with Microsoft Azure, a leading cloud computing service.
Understanding SAP S/4HANA
SAP S/4HANA, or Business Suite 4 SAP High-Performance Analytic Appliance, is a next-generation business suite by SAP. It is built on the advanced in-memory platform, HANA, and offers a personalized, consumer-grade user experience with SAP Fiori.
Designed to drive business innovation, SAP S/4HANA offers real-time analytics, digital-age technology capabilities like AI and machine learning, and allows businesses to run live in an ever-increasing digital economy. From operations to financials, it helps enterprises to respond swiftly to fluctuating market dynamics and enables them to leverage digital transformation for better business outcomes.
Understanding Microsoft Azure
Microsoft Azure is a leading cloud computing platform and service that delivers a broad spectrum of cloud services. These services encompass everything from analytics to machine learning, networking, storage, and more. With capabilities to build, manage, and deploy applications on a global network, Azure provides unmatched scalability and flexibility.
Azure's robust set of services and capabilities allows businesses to reap true benefits out of cloud computing, such as reduced operational costs, increased speed to market, and the flexibility of a pay-as-you-go model.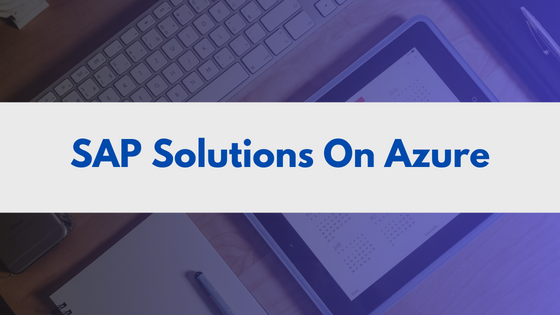 SAP S/4HANA on Azure: An Integrated Solution
Running SAP S4 HANA on Azure allows enterprises to leverage the strengths of two technological giants. It ensures high performance and robustness of SAP S/4HANA and Azure's environment, providing a seamless, safe, and highly efficient enterprise solution.
Here are some of their combined benefits:
Scalability and Flexibility
Azure enables the rapid provision of infrastructure, reducing the time spent waiting for new hardware to arrive. It offers the ability to scale up or down resources to match demand, resulting in cost savings and ensuring optimal performance.
Near-Real-Time Analytics
The in-memory capability of SAP HANA allows businesses to process and analyze large volumes of operational and transactional data in near real-time. When integrated with the powerful analytics services of Azure, businesses can generate useful insights faster than ever.
Security and Compliance
Both SAP and Azure prioritize the security of their users. Azure has robust and comprehensive security practices and features in place, such as Azure Security Centre and Azure Active Directory. SAP S/4HANA enhances these capabilities by offering improved data management and governance. Together, they ensure the highest level of security and compliance.
Cost Efficiency
Running SAP S/4HANA on Azure eliminates the capital expense of maintaining physical servers and reduces the operational costs of monitoring and upkeep. Businesses only pay for the resources they use, making it a highly cost-effective choice.
Conclusion
SAP S/4HANA on Azure is a potent combination that offers scalable, secure, and cost-efficient business solutions. By leveraging the strengths of both platforms, businesses can optimize their operations and make data-driven decisions more efficiently and effectively. As a result, they can not only survive but thrive in the ever-increasing digital economy.