La Paz Waterfall Gardens, located in the picturesque mountainous lands near Vara Blanca, Costa Rica, offers a magical experience to all of its visitors. This private nature reserve boasts multiple stunning waterfalls, lush rainforests, and picturesque landscapes that enchant the senses. Let's explore the captivating beauty of La Paz Waterfall Gardens and explore the number of waterfalls found within its bounds.
La Paz Waterfall Gardens: An Overview
Sprawling across 70 acres of natural beauty, La Paz Waterfall Gardens is a breathtaking and serene attraction. It is often considered one of Costa Rica's most famous nature parks, and for good reason. The reserve is home to several enchanting waterfalls, extensive wildlife exhibits, hiking trails, and a beautiful peace lodge. Tourists from around the world come to La Paz in search of a memorable experience that combines both adventure and relaxation.
The Five Waterfalls of La Paz
At the heart of the La Paz Waterfall Gardens experience are its captivating waterfalls. Each of the five unique cascades complements the park's other features and offers mesmerizing sights and sounds. Let's take a closer look at each one:
Templo Waterfall – This is the first waterfall encountered on the trail. Aptly named, Templo Waterfall is located near the entrance to the park, and its celestial appearance creates a welcoming atmosphere for guests. Spanning a height of approximately 112 feet, this cascade is set against a lush green backdrop, making it a beautiful sight to behold and photograph.
Magia Blanca Waterfall – As the largest waterfall in La Paz Waterfall Gardens, Magia Blanca ("White Magic") Waterfall is truly a spectacle to admire. Plunging an impressive 120 feet from its peak, this stunning waterfall offers breathtaking views as the water flows gracefully down its rocky face. Visitors can also venture behind the cascade to feel its powerful mist and embrace the surrounding nature up close.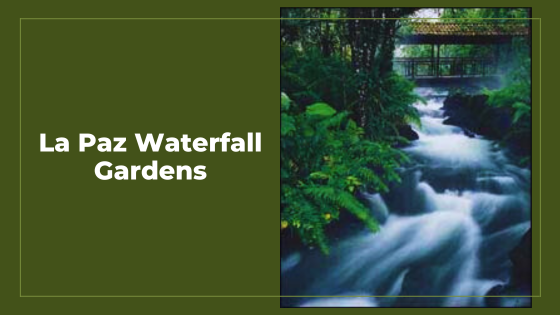 Encantada Waterfall – Translating to "Enchanted," Encantada Waterfall lives up to its name, luring visitors into its magical embrace. A relatively smaller waterfall with a height of 66 feet, Encantada is no less magnificent as it tumbles into the emerald pool below. It provides an intimate setting for visitors to take a moment and appreciate the beauty of the natural world around them.
Escondida Waterfall – Known as the "Hidden" Waterfall, Escondida is a thrilling discovery for those who happen upon it. The trail leading to this 66-foot cascade is shrouded in dense rainforest, making the scene even more captivating when found. The mystique and seclusion surrounding Escondida Waterfall make it an ideal spot to enjoy the soothing sounds of the flowing water.
La Paz Waterfall – The namesake of the park itself, La Paz Waterfall is an emblem of the garden experience. At about 98 feet tall, this commanding waterfall is marked by its powerful flow and striking presence as it descends from the cliff face. The observation platform offers astonishing views of this natural wonder, making it an awe-inspiring finale to the waterfall tour.
Conclusion
La Paz Waterfall Gardens offers a one-of-a-kind opportunity to explore and appreciate nature's undeniable beauty. Home to five awe-inspiring waterfalls, the gardens create a haven for relaxation and adventure. The Templo, Magia Blanca, Encantada, Escondida, and La Paz Waterfalls each offer their mystical charm and captivating allure, making La Paz Waterfall Gardens an unforgettable destination for any visitor to Costa Rica.