Embarking on your journey from Bangkok Airport, formally known as Suvarnabhumi Airport, towards the heart of Bangkok's bustling scene, one place stands out: Khao San Road. Known worldwide as a backpacker's hub, Khao San Road is a rich blend of vibrant street life, historical allure, and international diversity, drawing travelers incessantly towards its charismatic cacophony.
Reaching Khao San Road from the Suvarnabhumi Airport, 28 km away, involves multiple modes of transport, each varying by cost, comfort, and speed. However, for budget travelers aiming to preserve each penny for exploring the depths of Bangkok's culture, cuisine, and chaotic charm, a particularly affordable option stands out: the S1 Bus.
The S1 Bus is the cheapest method and most convenient method of public transport for travelers journeying from Bangkok Airport to Khao San Road. Introduced in 2017, the S1 Bus has become a preferred choice for budget-oriented international backpackers. The bus runs every 30 minutes and operates from 6 a.m. to 8 p.m., ensuring a budget-friendly commute from dawn to dusk.
Brimming with an electrifying ambiance, scrumptious street food, and a myriad of shopping options, Khao San Road promises a Thai experience like no other. Embark on your adventure via the S1 Bus and step into the heart of backpacking ecstasy.
Getting There: A Step-by-step Guide Via the S1 Bus
After stepping off your plane at Suvarnabhumi Airport, you should first make your way to the Ground Level of the Passenger Terminal, Gate 7. Once there, look for the S1 Bus Stand. If you have questions, airport staff are abundant and will guide you to the S1 Bus counter. The ticket costs just 60 Baht per person ($2 approximately), which is a steal compared to taxi rides or private hires.
Once you've secured your ticket, board the comfortable, air-conditioned S1 Bus. The journey to Khao San Road takes approximately one hour, depending on traffic. Although the S1 Bus may not offer the fastest journey, it certainly provides the opportunity to get your first glimpse of the city as you nudge closer to Khao San Road.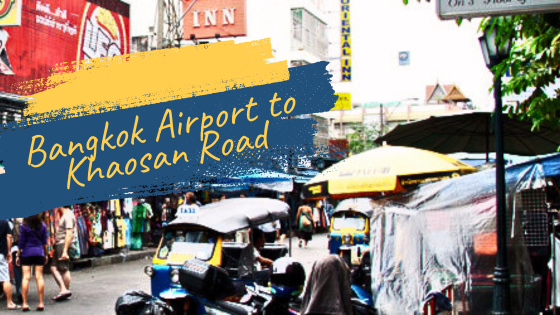 Exploring Khao San Road: More Than Just a Backpacker's Haven
After you disembark from your budget-friendly bus ride, the exotic energy of Khao San Road immediately surrounds you. What used to be a quiet residential area has transformed into a vibrant hunting ground for backpackers and travelers seeking a taste of Thailand's intense fascination.
First, satisfy your hunger pangs on Khao San Road, the veritable paradise of street food. Food stalls and small eateries provide anything from traditional Thai dishes to international favorites. Sample the legendary Pad Thai, satiate your sweet tooth with Mango Sticky Rice, or dare for the more distinctive fried insects, a common delicacy in Thailand's culinary scene.
After treating your taste buds, it's time for a shopping spree. The crowded street is populated by vendors peddling their array of goods, from clothing and accessories to souvenirs and local handicrafts. Bargain freely, as prices are often negotiable, and you could score some gems at bargain prices.
The thrills do not end as the sun dips below the horizon. Khao San Road is famous for its electrifying nightlife, offering everything from lively bars, brilliant live music to thrilling street performances. The atmosphere ignites, and the revelry goes on until dawn.
Wrapping Up Your Experience
With its distinctive charm, Khao San Road exemplifies the cultural tapestry of Bangkok in the most authentic setting. Regardless of your budget, this enticing place ensures a memorable Thai experience. Its eclectic mix of sights, sounds, and people, so easily accessible from the airport via the economical S1 Bus, makes Khao San Road a must-visit destination in Bangkok.
Just remember, the journey you embark on within Khao San Road doesn't end with the setting sun; it continues through the brisk night market and vibrant nightlife. So, brace yourself for a whirlwind journey as you step off of the S1 Bus and into the action-packed world of Khao San Road in Bangkok.