Today in the sphere of building there are several types of basement waterproofing.
Horizontal waterproofing, that assumes drainage systems functioning for water withdrawal out of house;
Vertical waterproofing that is created for walls and foundation protection.
Vertical waterproofing system can be divided into two subgroups:
Anti- capillary – lessen the materials capillarity and thus, prevents water diffusion into the walls;
Anti- pressure – is aimed to exclude the contact between water and walls with foundations.
Anti-pressure basement waterproofing can be painted, surface-coating or a pasted one.
Coating
Waterproof coat is made by pure bitumen, by cold- applied mastics or by hot mastic compositions, made of filler material and bitumen. The choice of material depends on the type of soil. If the soil is dry it is recommended to smooth basement walls out by cement and coat by cold- applied mastics and hot bitumen.
Bottom part of external walls of the house that was built on the clayey soil is processed by cement-calcareous solution and after its drying up it is processed by high bitumen for two times. If the soil is too wet different compactors are added or special cement marks are used while developing basement waterproof.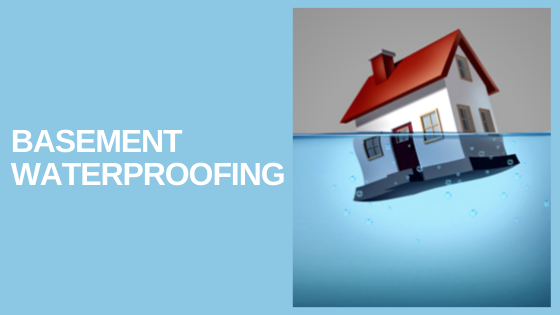 Pasting
The foundation and basement walls are cleaned, made level and dried up, then they are covered by cold priming and the damp-proof roll material is stuck on them. The joints of the subgrades are placed in a staggered-order. 10 cm overlapping is made on the lengthwise joints and on the diametrical joints the overlapping is 15cm.
One of the most popular pasting materials is cold bitumen substances. Pasting basement waterproofing has service life almost 20 years. " Roobyteks" ( service life 35 years) and " Stekloelast"( 20-25 years) are considered to be the most durable and the safest. They are made from polymerized bitumen and are characterized by hot sticking.
Anti-capillary waterproofing
Anti-capillary waterproofing is aimed to impregnate concrete walls. As a matter of fact these substances are produced as dry powders before use the must be diluted. Concrete walls must be cleaned from the demolished, friable layer and also must be moistened and processed by hermetic. Active elements penetrate into the capillaries and pores of the wall material, enter into a reaction and as a result form inert crystals, that don't let water pass into the walls.
The method and the material for basement waterproofing is chosen in accordance with hydra-geological peculiarities of the territory. You should always at least consult a professional basement waterproofing company Toronto before doing anything.